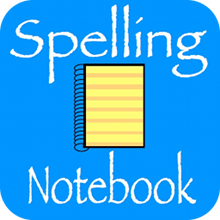 About Spelling Notebook
Designed to help you spell
Originally designed to be a replacement for a student's spelling notebook which lists words to be learnt for school each week. Unlike a paper notebook, Spelling Notebook can speak each of the words to enable testing and practice without seeing the written word. SpellingNotebook contains a full searchable spelling dictionary so that words can be added directly to the student's word list, minimizing entry errors.
Students can practice independently
More than 100,000 words - add new words to the built in spelling dictionary when needed
Spelling Notebook has a built in voice that can say all words in its extensive dictionary and any new english words added
Optionally Record your own voice for the word you want to practice. You can record just the word, or even a whole phrase to help you recognize which word to spell.
Multiple English regions: UK, US, Canada, Australia and NZ
Earn a star for correct words
Keep multiple word lists
Edit word lists: add or delete words, add or delete an entire word list, rename your list
Import words from one wordlist into another
Words are selected from an extensive dictionary - minimizing entry errors
Help available in app to guide and support
Word list Copy and Paste
History of Word list tests and practice
Email test results
The built-in English spelling dictionary is automatically selected by region: US, UK, AU, CA, NZ.
Recommended Ages: All, Kids